PRESS RELEASE
THE EDGE OF ENGLAND
Photographs, 2006-2009, by Alexander Brattell

31 October - 5 December 2009
McCarrons of Mercatoria
68 Norman Rd, St Leonards On Sea, East Sussex TN38 0EJ
Tuesday-Saturday, 10am-5pm
view images from The Edge of England
The Edge of England is a place, a state of mind, a particular time. Photographs from the series made in the Hastings and Rother area will be exhibited throughout November in Norman Road, St. Leonards On Sea's eclectic shopping street. Alexander Brattell makes series of images rather than working with projects or themes. From the images emerges a personal symbolism and sensibility. Planes of textures, light and the lit interact - graspings of the eye articulating meaning beneath language.

Alexander Brattell's work is an ongoing psychological reportage depicted in lustrous monochrome silver prints which he makes in the traditional way. His photographs travel elegantly through time, incidental images that have a resonance beyond what they represent. Brattell discovers interior landscapes amongst the physical detritus of the everyday, making photographs that are more concerned with describing sensation and experience than with depicting appearances.

Alexander Brattell is based in St. Leonards On Sea on the south coast of England. He has exhibited in locations as diverse as The Prince's Foundation and the Royal London Hospital. Published by The Times, Telegraph Publishing and Conde Nast, his work has featured on numerous book and album covers. His fine art prints are in private collections worldwide.
"Having an astute eye must be one of the prerequisites of a photographer's armoury but it's surprisingly rare.
Alex's photographs however are riddled with that quality and also convey a sense of humour which is difficult
to achieve at will. His range of subjects speak of secret worlds of nooks and crannies and a wider and more
public face where his subjects never fail to provide the quirks and nuances that he portrays so well."
Robin Bell, black and white printer.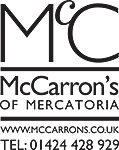 www.mccarrons.co.uk
www.thenormanroad.co.uk
www.brattell.com